Effective Morning Meeting Ideas and Plans for Busy Elementary Teachers
As an elementary teacher, you know that starting the day off on the right foot is crucial for a successful and productive day in the classroom. One way to do this is through a morning meeting. But, as a busy teacher, finding the time to plan an effective morning meeting can be a challenge. And because it's such a routine part of your day, sometimes our plans for morning meeting can feel a bit mundane. In this blog post, we'll discuss how to plan a morning meeting in 10 minutes or less, so you can start your day off with a sense of community, intention, and purpose.
What is a Morning Meeting: The Purpose of Morning Meeting in the Elementary Classroom
First, let's define what a morning meeting is. A morning meeting is a daily routine that takes place at the beginning of the school day. It's a time for students to come together as a community, greet each other, and set intentions for the day. Morning meetings can also include activities such as sharing, calendar time, or social emotional learning (SEL) lessons.
So, how can we plan an effective morning meeting in just 10 minutes or less?
Planning an Effective Morning Meeting in 10 Minutes or Less: A Step-by-Step Guide to Efficient Morning Meeting Planning
Decide Your Morning Meeting Components: How Will Your Class Start Their Day?
Make a list of the components you want to include in your morning meeting. These might include a greeting, a sharing activity, and a calendar time. You can also include an SEL activity or setting goals for the day.
Why a Consistent Structure is Key to a Successful Morning Meeting
Decide on a consistent structure for your morning meeting using those components you want to have. For example, our morning meeting structure is:
Greeting
Share
Activity (which correlates to SEL)
Message
Calendar
It's important to keep the structure consistent as it helps students know what to expect and it will help you plan your morning meetings in a snap.
Save Time with a Go-To List of Morning Meeting Ideas
Create a bank of ideas. Open a blank google doc and list out all the ideas you have for each of the components of your morning meeting (greeting, share topics, and activities). Return to this list when you're ready to plan or when you think of a new idea.
Making Morning Meetings Engaging with Visual Aids
Use visuals. Slides can help make this daily routine even easier for you because it creates a visual, not just for you as the teacher, but for your students too. And let's say you want to include a video like in our example, you can embed that right into the slide so you're not wasting time looking for the video you need while your students wait on the carpet.
Starting the Day off Right with an Effective Morning Meeting
By following these 4 steps, you'll be able to plan an effective morning meeting in 10 minutes or less. Remember, a consistent structure, having go-to ideas, and visuals are key to making planning and teaching morning meeting a breeze.
Next Steps for Your Morning Meeting:
Download the Free Morning Meeting Idea Lists below!

Listen to Episode #81 of The Teacher Time Podcast to learn more about quickly planning an effective morning meeting in your classroom!
Grab my best-selling resource for your Morning Meetings: Editable Morning Meeting Slides, which is chalk-full of hundreds of ideas for all parts of morning meeting. They also include blank slides so you can add your own text, images, or videos for your lessons!
Free Morning Meeting Ideas for Inspiration
If you're in need of some inspiration for your morning meetings, be sure to check out our free morning meeting ideas.
Thanks for being here. Until next time, happy teaching!
PIN FOR LATER: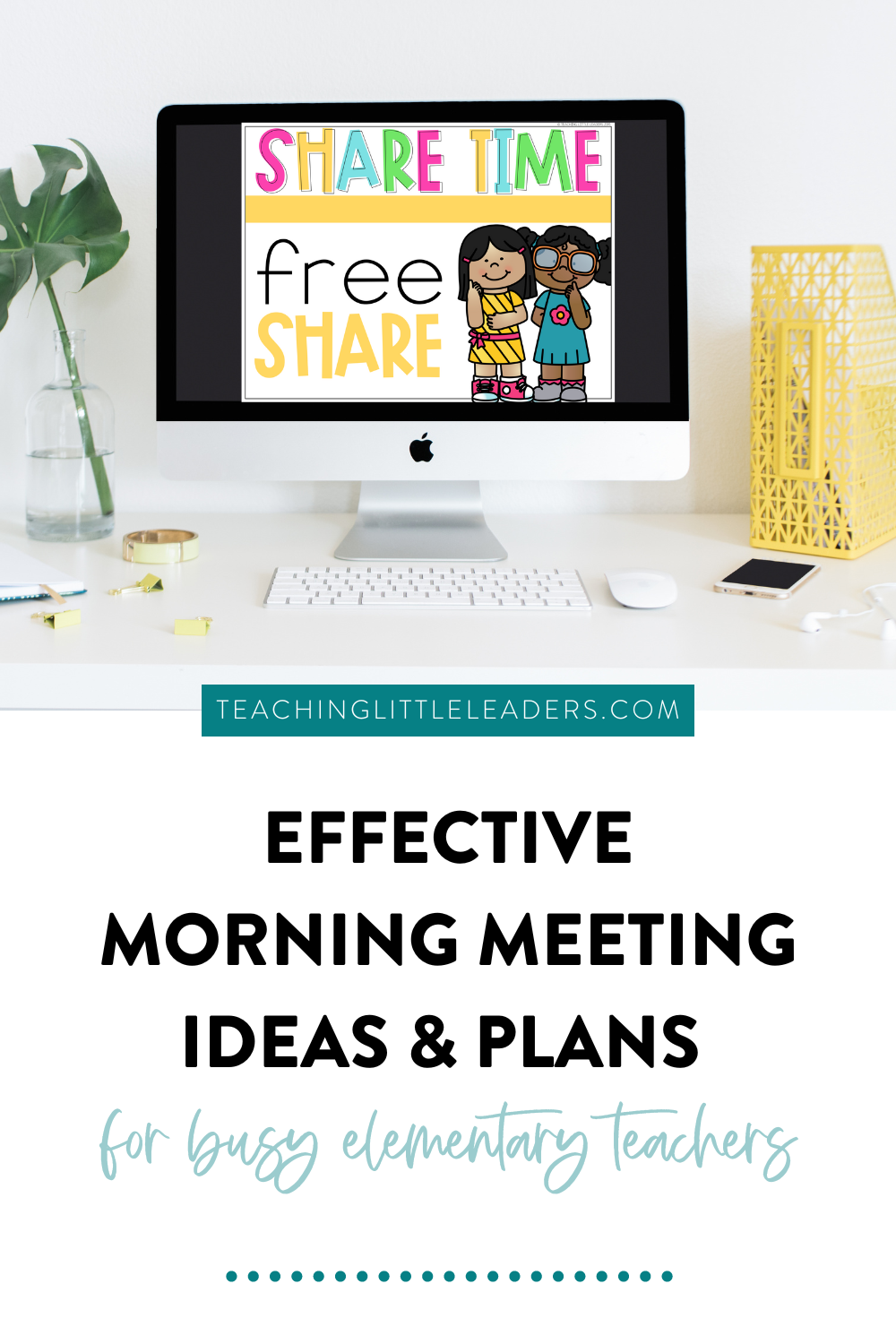 Grab My Free Productivity Guide
Learn 3 Ways to Instantly Increase Productivity for Lower Elementary Teachers.
Plus get free time management tips and tools sent straight to your inbox each week.
GET THE GUIDE